Here's an example of where a press release was written so journalists can simply lift copy from and put it into their story. The Global TV story at this link (You'll have to skip the ad, sorry) lifted the copy from the release below. Do the journalist's job for them and a) it's more likely you'll get coverage and b) it's more likely they'll tell the story you want them to.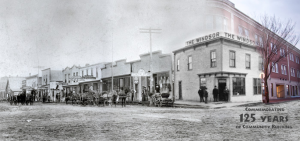 FOR IMMEDIATE RELEASE.
OLD STRATHCONA MAIN ST. NEW AGAIN, ON THREE FLOORS
GRAND OPENING, ROOTS ON WHYTE, SATURDAY MAY 12

EDMONTON, ALBERTA. MAY 1ST, 2012.  Alberta's oldest pioneer stores were raised more than a century ago on the very same spot as Edmonton's newest commercial partners raise the roof–on a community party to celebrate the Grand Opening of Roots on Whyte, the re-located, re-vamped and re-purposed pioneer of organic living in the Capital Region.
The new Roots on Whyte is first and foremost a community of nineteen businesses. A team built on trends of sustainability, where local partners support each other and build a better future together, just like the first pioneers. The second major trend booming here is holistic health care. Roots on Whyte is a one-stop-shop for taking care of yourself naturally: drop the kids off at the Day-Care, (plastic-free and filled with wooden toys and beeswax crayons), while you visit the organic Dentist, Hairdresser, Spa, Supplement store or Supermarket. You could squeeze in an appointment with one of the Health and Wellness Practitioners covering everything from Acupuncture and Hypnotherapy to Physiotherapy. Maybe pop in on a drop-in yoga or pilates class. Then finish off with lunch at the Restaurant, locally sourced, of course. Or, afternoon coffee, tapas and wine, at the Italian Bar.
"We hand-picked everyone," smiles owner Judy Campbell, the visionary force behind the first Roots, and this new commercial community. "We selected like minded, dedicated, professionals well respected in their fields," she beams proudly, "We're building a strong team, united in creating programs and products that inspire customers to support health and the environment".
The Grand Opening, like the building itself is designed as fun for families – face-painting, a coloring contest, live music including Everett La Roi, Alice Koss and Penny Rosten. There's special Mother's Day promotions, competitions, prizes, demonstrations like Qi-Qong and Pilates on the patio, and free sampler sessions from Life-Coaches and Rolfers, Naturopathic Doctors and Chiropractors. There's even a free horse drawn carriage to bring folks over from the Farmer's Market from 11am­–3pm.
Roots on Whyte's green credentials are energy efficiency, (triple-glazed windows, high-rated insulation, roof-lights etc.), sustainability (because beautiful buildings endure, especially if they're brick) and a commitment to re-purposing and up-cycling, ranging from church-pew seating in the restaurant to re-cycled woodblock walls at the hairdresser. At Roots, hair dyes and shampoos are just like all the cleaning materials…organic and chemical free.
Roots on Whyte is a magnet.  Poised to re-vitalise much more than its own corner on 102nd St/82nd Ave. Cally's Teas have already re-located next door from 99th St. and other independently minded local businesses are set to move in…"Hopefully we are the seed, which will eventually upgrade Whyte Avenue all the way east to 99th Street in future," muses Campbell.
SATURDAY MAY 12 GRAND OPENING EVENTS. For more info. contactmeital@rootsonwhyte.ca
Free Demonstrations, Noon–3:30pm (Patio). Natural Vision, 11 am onwards (in store). Mini Therapy Sessions, 1:30–4:30pm (Conference Room). Face Painting, 1:30–5pm (2nd floor). Pilates Mat Class, 2pm.
CONTACT: Details appeared here,
Name, Position.
Phone, email, web address (all hyperlinked)