Why Corporate Storytelling?
Make it a thrill for clients to do business with you. Compel them to buy into your brand. Give them real reasons to care about your organization with stories of how you will make their lives better.
Corporate Storytelling creates, builds and manages your image in words, pictures and sounds, using the power of multi-media platforms to call clients to action. Stories are the reason your clients buy from you or support your organization in the first place.  If you don't know why you are really in business, beyond profit, why should they care?
Your staff and clients tell stories about your organization all the time. Are they true? Word of mouth, good or bad, spells the success or failure of your business. Especially in an internet world.
To get your Corporate Story straight you need to define and refine the building blocks of effective communications – your Vision, Mission and Positioning Statements, and the organisation's Corporate and Brand Values and Characteristics.
If these are just statements they're dead. If they are living concepts they tell the inspirational story of who, what, when, where and why you are in business, the reasons why customers should do business with you, why they should buy into your tribe.
Great Communications Strategies are created the same way as great stories, from the foundational blocks of classic storytelling narratives. To build a campaign, we decide together what's the most compelling story to tell and in which media to build awareness and call clients to action.
CORPORATE STORY BUILDING BLOCKS
Like all good stories there's a beginning, middle and end to your Corporate Story and Communications Strategy, which follows the same principles as classic narrative structure.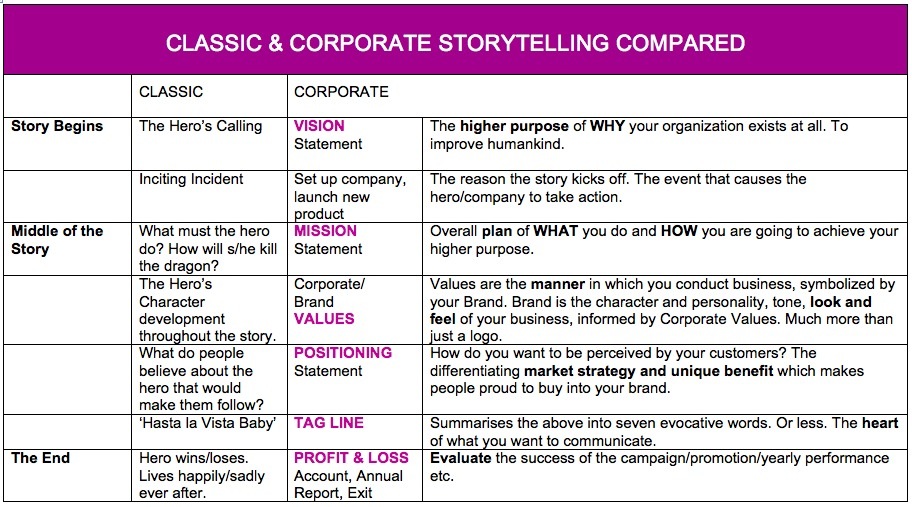 Every organization needs to refine and develop foundational communication blocks and repeat and repeat them so clients know what you do. We run fun, creative workshops and processes to help you build the following: –